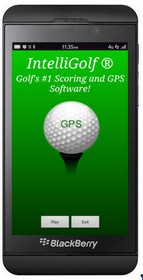 Discontinued
Requirements
Blackberry OS 10 smartphone;
6MB of free memory;
OS 10.1 or higher, and
Wi-Fi or data plan for wireless course access.
Sales information: sales@intelligolf.com
The IntelliGolf Eagle (Premium) edition smartphone "version 11" software is perfect for use on the BlackBerry® Z10 and Z30 smartphones (maybe Q10*) running OS 10.x. The IntelliGolf software is the only BlackBerry® OS 10.x software that includes golf 1) Scoring, 2) Shot tracking, 3) Satellite-based GPS, 4) Sidegame wagering, 5) Statistics and graphs, and 6) Signature courses all-in-one!
Product Discontinued - Sorry
Use the IntelliGolf Eagle edition software to automate golf scoring and wagering on the golf course. View distances and track shots from tee-to-green with GPS accuracy. Evaluate performance statistics and graphs for an unlimited number of rounds, players and courses. IntelliGolf: "Golf's #1 Scoring, Wagering and GPS Software"™ in 125+ countries worldwide!
IntelliGolf includes:
Scoring;
Shot tracking;
Satellite GPS;
Sidegame wagers;
Statistics and graphs, and
Signature courses (27,000+).
With the IntelliGolf Eagle Smartphone edition software, now you can wirelessly access (i.e. via Wi-Fi or your carrier-based data access plan) thousands of signature courses via your smartphone, for use with IntelliGolf. Round set-up is a breeze! Hole yardages, par ratings, hole handicaps, and GPS coordinates (for GPS surveyed courses) are all included. Round set-up is simple. Plus, course downloads are FREE for IntelliGolf for Blackberry version 11.x users and are only 5-8Kb in size. Other companies charge up to $59.95 in annual membership fees or $19.95 per course download and can be up to 400,000 bytes in size. IntelliGolf saves you time, money, and memory. It is no wonder that IntelliGolf is "Golf's #1 Scoring, Wagering and GPS Software!"™
Note 1: The Blackberry OS 10.1 (or higher) is HIGHLY recommended due to the Z10's new alpha-numeric virtual keyboard. That makes entering golf scores, putts, and shot distances a lot easier!
Smartphone Software
Use the IntelliGolf software to automate golf scoring for up to five players (i.e. fivesome) per Round. Track shots for every club including hybrids. Evaluate game-improving statistics and graphs. IntelliGolf will even add up your group's wagers using any of the thirty-five (35) included sidegames (e.g. skins, birdies, stablefords, etc).
The IntelliGolf Eagle SP edition includes the ability to view distances from tee-to-green with GPS accuracy using the GPS chip in your Android-based smartphone. The IntelliGolf sofware will provide you with GPS distances from any location on the hole to the 200, 150, 100 yard/meter markers, to the front, center, and back of the Green, and up to three (3) custom fairway locations of your choosing (e.g. dog-leg) for GPS-enabled courses. Club selection has never been easier.
The IntelliGolf for Blackberry OS 10 smartphone software includes:
Golf scoring for five;
Thirty-five sidegames;
Shot tracking for all clubs;
Posting display with ESC;
Traditional and shotgun starts;
Embedded IntelliGPS technology;
Performance statistics and graphs;
Drive, approach, chip, and putt tracking;
Unlimited custom wagering options, and
ScorecardView™ display system.
IntelliGolf also includes the ability to enter your official USGA Handicap Index, EGA Index, Handicap, or approximate a handicap for you. Under license from the USGA®, IntelliGolf will convert your official Handicap Index to a Course Handicap based upon its Slope® rating. At the end of your Round, IntelliGolf will automatically compute your Adjusted Maximum Score for posting (USGA and RCGA). No more charts and tables. IntelliGolf does it for you!
IntelliGolf has been used by hundreds of thousands of golfers worldwide including college and high school teams, PGA, EGA, RCGA golf professionals and their caddies, and golfers like you. You can be confident that we will be there for you! Join golfers in 125+ countries worldwide that are using IntelliGolf to improve their game, increase their winnings, and have more fun on the golf course. IntelliGolf -- Golf's #1 Scoring, Wagering and GPS Software!™ Get it today.
Optional Desktop Companion Software
The IntelliGolf® Birdie edition is the perfect Windows-based desktop companion software for your Blackberry-based smartphone software. The Birdie edition software includes our latest 1) Windows-based PC software for charting, graphing, viewing trends and approximating your handicap, 2) Wi-Fi synchronization software for uploading/downloading rounds, courses and players, and our unique 3) Cloud access software to our golf course server (DB) of over 27,000+ courses worldwide. Adding the IntelliGolf Birdie edition companion software to your IntelliGolf smartphone software will provide you with everything you'll need improve your game, increase your winnings and have more fun on/off the golf course! Over 85% of our customers add the optional Birdie edition software to their Eagle smartphone edition software. For more information on the IntelliGolf Birdie edition desktop companion software please click here.
Installation Instructions
To install IntelliGolf onto your Blackberry OS 10-based smartphone, please wirelessly download it onto your smartphone (i.e. as with any Blackberry-based smartphone application). Then, please click here to view our on-line Quick Start Tour. It will show you how to download courses, enter players, and how score your rounds using the IntelliGolf software.
Note: We have a lot of great FAQs on loading/installing/using the IntelliGolf software by clicking here.
Have a Great Round!
* Customers are running the IntelliGolf software on the Q10 with mixed results. While it is running fine for most golfers on the Q10, some are experiencing issues with the Q10's hardware keyboard. If you experience IntelliGolf issues on the Q10, you are welcome to return it according to Blackberry AppWorld's refund policy. It's surely worth a try, particularly at today's SPECIAL price!