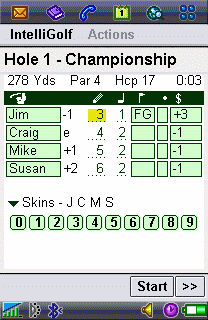 P910 screen shots
Awarded "Best Product of the Year" IntelliGolf® just got better. The IntelliGolf Eagle Value edition version 10.x software is perfect for use on Java-based (UIQ) smartphones including Sony Ericsson's P990, M600, Walkman W900/950, P1i, and other Java-based smartphones. Use IntelliGolf to automate golf scoring and wagering on the golf course. View distances and track shots from tee-to-green with GPS accuracy. Evaluate performance statistics and graphs for an unlimited number of rounds, players and courses. IntelliGolf: Golf's #1 Scoring and GPS Software™ in 125+ countries worldwide!
IntelliGolf includes:
Scoring;
Shot tracking;
Satellite GPS;
Sidegame wagers (35+);
Statistics and graphs, and
Signature courses (27,000+).
With the IntelliGolf Eagle Value edition smartphone software, now you can wirelessly access thousands of signature courses via your smartphone, for use with IntelliGolf. Round set-up is a breeze! Hole yardages, par ratings, hole handicaps, and GPS coordinates (for GPS surveyed courses) are all included. Round set-up is simple. Plus, course downloads are FREE for IntelliGolf version 10.x users and are only 5-8Kb in size. Other companies charge up to $59.95 in annual membership fees or $19.95 per course download and can be up to 400,000 bytes in size. IntelliGolf saves you time, money, and memory. It is no wonder that IntelliGolf is Golf's #1 Scoring and GPS Software!™
Smartphone Software
Use the IntelliGolf software to automate golf scoring for up to five players (i.e. fivesome) per Round. Track shots for every club including hybrids. Evaluate game-improving statistics and graphs. IntelliGolf will even add up your group's wagers using any of the thirty-five (35) included sidegames (e.g. skins, birdies, stablefords, etc).
The IntelliGolf Eagle OTA edition includes the ability to view distances from tee-to-green with GPS accuracy using industry-leading GPS receivers. With a GPS receiver attached to your handheld, IntelliGolf will provide you with GPS distances from any location on the hole to the 200, 150, 100 yard/meter markers, to the front, center, and back of the Green, and up to three (3) custom fairway locations of your choosing (e.g. dog-leg) for a GPS-enabled course. Without a GPS receiver, IntelliGolf's latest IntelliGPS® technology will automatically predict distances to the 200, 150, 100 yard/meter markers, and to the front, center, and back of the Green from the Tee Box. As such, you do not have to own a GPS receiver to start enjoying the benefits of the IntelliGolf Eagle edition today. Club selection has never been easier.
To learn how to GPS-enable your handheld, please click here.
The IntelliGolf smartphone software includes:
Golf scoring for five;
Thirty-five sidegames;
Shot tracking for all clubs;
Posting display with ESC;
Traditional and shotgun starts;
Embedded IntelliGPS technology;
Performance statistics and graphs;
Drive, approach, chip, and putt tracking;
Unlimited custom wagering options, and
ScorecardView™ display system.
IntelliGolf also includes the ability to enter your official USGA Handicap Index, EGA Index, Handicap, or approximate a handicap for you. Under license from the USGA®, IntelliGolf will convert your official Handicap Index to a Course Handicap based upon its Slope® rating. At the end of your Round, IntelliGolf will automatically compute your Adjusted Maximum Score for posting (USGA and RCGA). No more charts and tables. IntelliGolf does it for you!
Installation Instructions - For installation and user instructions please click here to review our Quick Start Tour.
Desktop and Synchronization Software - Please note that the IntelliGolf Eagle Value edition software does not include the Windows-based desktop and synchronization software traditionally found in the full Eagle Pro edition software. This is so our Mac customers can install/use this software on their smartphones. To view all of our IntelliGolf products, please click here.