IntelliGolf - Top Scoring Application of the Year
---

Pen Computing's Annual Golf Scorecard Tournament


Pen Computing Magazine compared IntelliGolf and GolfWits in this year's Annual Golf Scorecard Tournament. IntelliGolf was awarded "Top Scoring Application of the Year" being called the "Tiger Woods" of golf applications.

Below are a few quotes from Pen Computing's Final Round conclusions at the end of the article.
The IntelliGolf Birdie edition (US $39.95), includes the Par edition, and Windows 95/98/NT desktop companion software (for trend analysis, scorecard printing and HTML scorecard web display), the ability to download the scorecard data for over 13,500 golf courses, and Karrier's IntelliCap™ handicap calculator.
The Golfwits suite of products is available in piecemeal with the desktop and Windows CE applications prices at $US $39.95 and MapWits trailing at $29.95. The entire suite is available for US$69.95.
GolfWits requires 400Kb of memory for installation and has a requirement of 5Mb of free program memory; a nearly unforgivable sin when that's more than one-third of the total memory on a 16Mb machine.
IntelliGolf fits into a slender 140Kb of storage memory and we never had any problems running it, even on a memory constrained device.
In addition, due to the graphical nature of the Golfwits program, the map files range from 60Kb-100Kb, while IntelliGolf maps only need 1.5Kb of memory.
...IntelliGolf claims the title of top scoring application this year...

Below is a copy of the full article.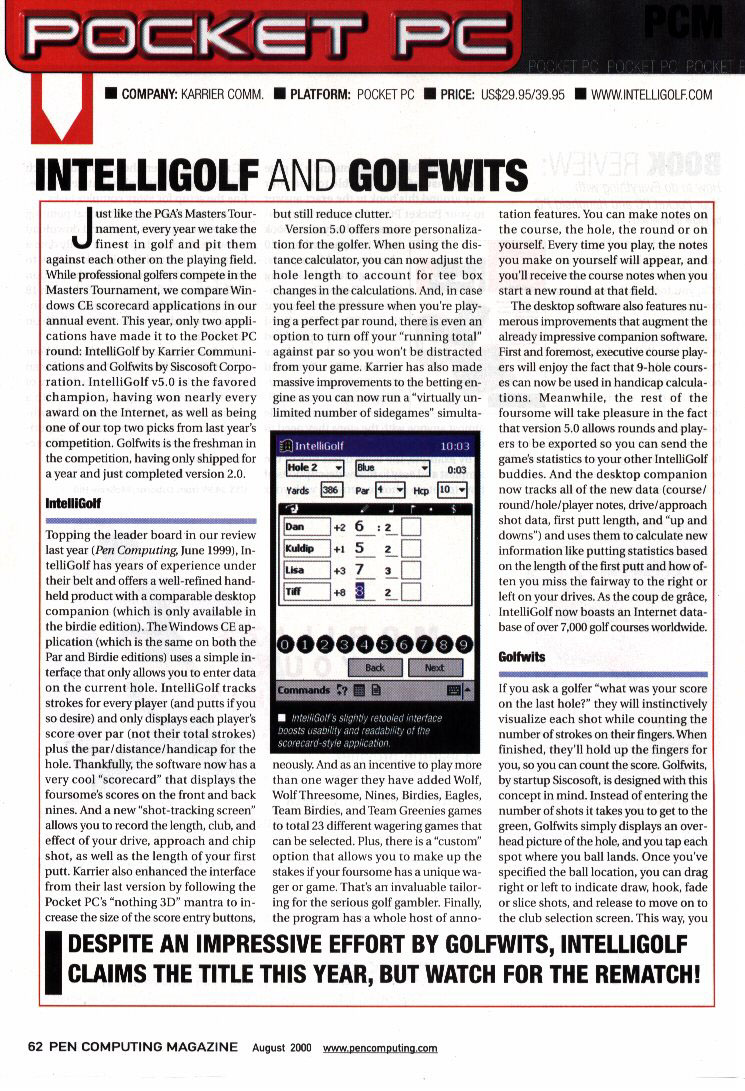 Next >>>

© 2007 IntelliGolf, Inc. All rights reserved.