IntelliGolf GPS White Paper
---
GPS, SBAS/WAAS, Bluetooth, and NMEA
Imagine being able to freely use the US Government's (worldwide) satellite-based Global Positioning System (GPS) with your Palm/Treo handheld, Pocket PC, Blackberry, Windows Mobile-, Sony Ericsson-, Motorola- or Nokia-based smartphone to accurately view distances from Tee-to-Green on the golf course. Have you ever wondered how far it was from the White tees to oak tree on the left or to the dog-leg in the fairway? With today's GPS, SBAS/WAAS, Bluetooth, and golf software, this is becoming an affordable reality.
SBAS, NMEA, Bluetooth Overview
For many years, IntelliGolf, Inc. has been evaluating GPS receivers, NMEA standards, the latest Space Based Augmentation Systems (SBAS), and Bluetooth. Until recently, handheld GPS receivers have only been accurate to +/- 10 meters. While +/- 10 meters is fine for handheld navigation systems (e.g. maps in your car), that is basically two clubs lengths of "inaccuracy" for golfers. With the release of the publicly available US Government's Wide Area Augmentation System (WAAS), accuracy levels have been significantly enhanced. WAAS-based GPS receivers are now claiming accuracy levels to inside of 3 meters. That is well within the range of accuracy needed for golf. In addition, The European Geostationary Navigation Overlay System (EGNOS), and Japan's MTSAT Satellite-based Augmentation System will provide similar WAAS precision and are collectively part of SBAS.
Since 1970, the National Marine Electronics Association (NMEA) has been developing standards on how to share specific data between competing entities in the area of navigation. NMEA has become the developer, maintainer and distributor of various documents and standards related to the marine electronics industry. NMEA standards have now been generally accepted as the common practice for how to share specific navigational information between devices (e.g. GPS receivers and handhelds) on and off the water. Most leading GPS receivers now support NMEA standards.
Bluetooth has been touted at the wireless standard for the 21st century. It allows electronic equipment including computers, handhelds, cell phones, keyboards, mice, and the like to communicate wirelessly with each other. This is all done without cables, dongles, or any direct wired connection between compliant devices. Bluetooth is both a radio-frequency standard as well as a conversational standard between enabled devices (i.e. when/how bits are sent, how many bits, etc). Many handhelds and GPS receivers are now Bluetooth enabled.
In essence, NMEA provides the navigation interface standards, SBAS provides the navigation accuracy, and Bluetooth provides wireless communication between handhelds and GPS receivers. The major task: integrate all of these components together and combine them with golf scoring, shot tracking, sidegame, and golf statistics software. Add in free access to the largest collection of international golf course scorecards in the world and you have IntelliGolf Eagle edition.
IntelliGolf Eagle edition
IntelliGolf, Inc. began shipping the IntelliGolf Eagle edition some years ago. The Eagle edition includes support for the industry's leading NMEA compliant GPS receivers that support SBAS/WAAS accuracy enhancements. IntelliGolf includes support for both Bluetooth (i.e. wireless) and serial connected GPS receivers. In doing so, IntelliGolf is the only golf scoring software to include all 7 S's of golf: Scoring, Shot tracking, 35+ Sidegames, 250+ Statistics, Signature courses, Sharing of information, and "Satellite GPS".
IntelliGolf and GPS
Current IntelliGolf users will be familiar with IntelliGolf's main Scoring screen (below left). It is the primary screen used to enter scores, putts, and to access IntelliGolf's shot tracking, wagering, and scorecard screens. In the Scoring screen, IntelliGolf's engineers have added a Satellite Icon just to the left of the Start button. Tapping on that icon will bring up IntelliGolf's new IntelliGPS™ Distance display screen (below right).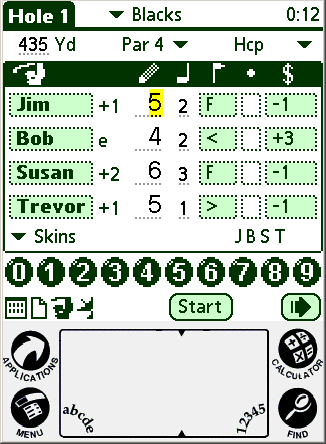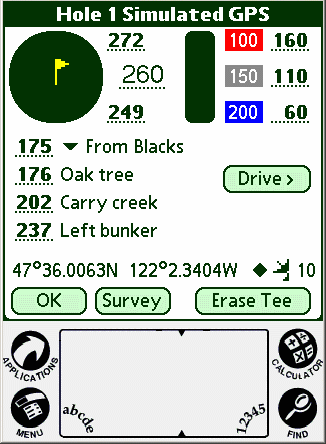 From the Distances screen, IntelliGolfers will be able to view GPS distances from their "current location" to their desired "target location". For example, it is 260 yards from the golfer's current location to the center of the green. It is 249 and 272 yards to the front and back of the green, respectively. IntelliGolf will also provide golfers with GPS distances to standard fairway markers including the 200, 150, and 100 yard (or meter) markers. Notice that it is 60, 110 and 160 yards, respectively, from the golfer's current location to these markers. IntelliGolf will also provide golfers with the ability to track up to three custom fairway locations per hole. Notice that it is 176 yards to the oak tree.
Regarding accuracy, notice the "number" and the "diamond" next to the Satellite Icon in the Distances screen. This number (e.g. 10) indicates the actual number of satellites that IntelliGolf, via the GPS receiver, is using to calculate GPS coordinates. More is better. When a diamond is present, IntelliGolf is receiving SBAS-enabled satellite signals providing even greater accuracy.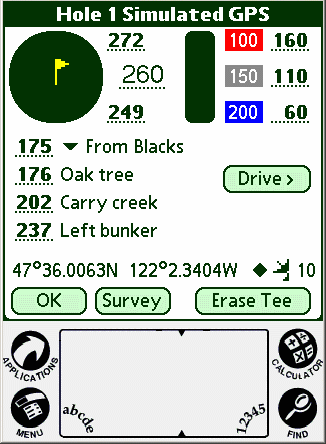 In the Distances screen (above), notice the Drive button. Just to the left of the Drive button is reads: 175 from Blacks. IntelliGolf has calculated that this golfer's Drive distance is 175 yards from the Black Tees. Pressing the Drive button will automatically enter 175 yards into IntelliGolf's shot tracking statistics. This saves time on the course. While this may not be the golfer's best Drive, they do know a couple of very important items. Their Drive went 175 yards leaving them 260 yards to the center of the green. Since a typical golfer doesn't hit their fairway woods 260 yards, the smart shot would be to lay up at the 100 yard marker. Then the golfer can hit a full pitching wedge (PW) into the green. By looking at the Distances screen, the golfer knows that they are 160 yards from the 100 yard marker. That's a typical 7 iron. Decision made. Hit a 7 iron, then a PW, and then putt for a Par.
IntelliGolf Courses and GPS Survey
Currently, the IntelliCourse™ golf course database contains records on over 25,000 signature courses, now the largest collection of international scorecards and course essentials in the world. With the IntelliGolf Eagle edition and Eagle GPS Option software, IntelliGolfers worldwide will be able to upload and download their favorite courses, including GPS coordinates, for all IntelliGolfers to share.
Golfers will be able to record GPS coordinates using the GPS recording screen (above) or from the comfort of their own home using our Course Survey Editor (CSE). Our new CSE software integrates with Google Earth (see the Courses tab at the top of www.intelligolf.com) and is FREE.
From the Distances screen (above), tapping on the Survey button brings up the GPS recording screen. This screen is used to enter GPS coordinates into IntelliGolf. As the golfer walks (or rides) down the fairway, they simply tap on the Record button at each fairway marker. This enters the longitude and latitude points for these markers into IntelliGolf. IntelliGolf will automatically convert these readings into distances for display via the Distances screen. The same is done for the front, center, and back of the green and up to three custom fairway locations.
When the golfer synchronizes their IntelliGolf handheld software with the included IntelliGolf desktop (Windows) software, these coordinates are uploaded and saved into the PC's IntelliGolf database for future Rounds. From the PC, the golfer is also able to upload these GPS coordinates into the IntelliCourse web database via the Internet. IntelliGolf users worldwide will be able to access this information wirelessly or via the Internet as a free service (i.e. no charge) hosted by IntelliGolf, Inc. By comparison, competing products up to $19.95 per course download or up to $59.95 in annual membership fees. It should also be noted that each IntelliGolf course download requires approximately 5Kb of handheld storage (i.e. memory) space. Competing products can require up to 100Kb of storage per course due to their graphical nature.
IntelliGolf = practical GPS, standards-based, free course downloads, minimal memory usage, and easy to use.
We hope that this white paper on GPS, SBAS/WAAS, Bluetooth, NMEA, and IntelliGolf has been beneficial to you.
IntelliGPS Certified Device List
Have a Great Round!
The IntelliGolf Team
Sports Enhancing Software
IntelliGolf®, IntelliSwim®, and IntelliTimer®